Overview
Miss Martian is the younger female counterpart to Martian Manhunter, a super-hero active as a member of the Teen Titans. She is a member of the malevolent White Martians race unlike her Green Martian predecessor, although she works hard to prove herself and discredit the stereotype. In her civilian identity, she is high-school student Megan Morse.
Unlocking
Miss Martian's token can be found in Space suits you, Sir!
Wander over to the left from the starting point and use Cyborg's Magnet Suit on the blue object to reveal a gold wall. Cut a hole in the wall with a laser and LEGO bricks will tumble out. Destroy the rest of the gold wall with a laser to collect the character token.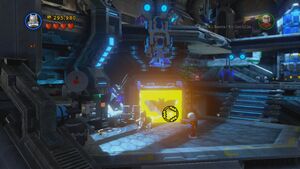 She can be bought for 50,000 studs.
Abilities
Images
Community content is available under
CC-BY-SA
unless otherwise noted.